Part Two: JACK and KATE.
As I sat in chat with my fellow Jaters after the Finale aired, all I kept saying was, "WE MADE IT", but I should have shouted, "THEY MADE IT." Jack and Kate made it, and while it makes me so happy for them, so incredibly vindicated by their triumph, I know that I will truly miss them! But hey, Jaters can have an afterlife too, so the party isn't over by my estimation.

Spell it with me. E-N-D-G-A-M-E. The most glorious seven letters in the history of shipperdom. Rejoice.

The Island – 'I LOVE you'…'I love YOU'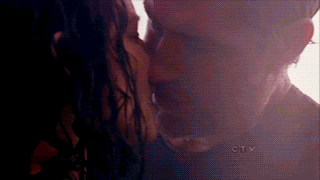 Jate on the Island, everything that we've been waiting to happen between them, HAPPENED. First off, I have to address certain points about the lack of Kate responses to Jack's decisions this season, especially the decision to replace Jacob. I wonder where those notions came from, because in the Finale, the famous "I still love you Jack, I still want you Jack, why can't you see that?" KateFace was everywhere, and I knew it would show up again.
My God. Walking towards the stream and looking out at his frame, turned against her, as he stands as the newfound protector of the Island. HER FACE. Mortified isn't a strong enough word. Devastated doesn't cut it either. Saddened just lacks the right connotation. Words escape her expression. Her urging him to see that he didn't ruin anything, how she moves in front of him, stopping him in his path, to make sure that he can see it in her eyes. "Nothing is irreversible…" So Jack and Kate share lines, too? Oh yeah! Too OTP for words.
Kate steadily supports him, even when he walks off with Flocke to ultimately end up on a slippery cliff with a knife at his throat. She has an hour to get to the plane and she decides to follow Jack, basically to the end of the Island itself, as it starts to crumble, to save his life. Dude, that's LOVE. EPIC LOVE. I always wondered about that, how Kate even found him in the first place. Kate has come to save JACK (heroine to his hero much?) dozens of times without a speck of a trail to work with, she just FINDS him. I'm always in awe of that concurrent detail.
TEAM JATE destroys THE NEMESIS. How incredibly awesome was that? Our ship not only pwns the romantic aspect of LOST, but also the dramatic pacing, the game-changing action, the suspense, the climax.
~*~*~*~*~
Jack's refusal to leave for the umpteenth time is Classic Jack, and Kate's urging that he should let the Island sink and her frustration that he still won't budge is Classic Kate. "Tell me that I'll see you again" and Jack's lack of a comforting response, wanting so much to promise her a lifetime of happiness, of laughter and joy, to wake up next to her every morning, and to go to bed holding her every night, to promise her a house full of chubby babies, to make their life together his top priority …EXQUISITELY, GUT-WRENCHINGLY TRAGIC. It breaks my heart that they don't get a lifetime together, but an AFTER-life? Yeah, I can go with that. Nothing can keep them apart that way.
Their kiss. Kate, getting her last taste of him…just….GAH. I'm sorry, but every epic detail of Jate grew louder and louder for me as the seasons wore on, but the way that Kate opens her mouth about as wide as she can…my goodness! I think at some point her upper lip met his eye-lid and her bottom lip met his ear. She was feasting on him, literally. And Jack? He wasn't a stick in the mud as he leaned into her, wrapping his arm around the small of her back and tilting his head as far as he could to soak up everything she was willing to give. Bullet and knife wounds be damned. They clung to each other for dear life. The unspoken words, the tension, the misunderstandings, the angst, the frustration, and the anger prior to the realization that THIS IS GOODBYE, dissipated, and the only emotion left was LOVE.
Kate's "I LOVE you". Jesus Christ. Holy Mother of JATE…that was incredible. SHE SAID IT. CANON OF DA TEXT!!! Spectacular! And Jack's smile…KILL. ME. NAO. No other words. Evi's delivery, the way she stares at him, completely devastated, as he stumbles towards the cliffs. So Shakespearean. So heavy. So remarkable. So O-T-P.
Okay, it's paradoxical to me, because while Kate's ILY is what we've all been waiting for (six years is a long enough time in prison without it), and it was delivered so exotically by Evi, but the way that Jack says "I love YOU"…HOLY CRAP, I'm DONE FOR. Matthew Fox put so much raw, unadulterated, spiritually-lifting, gravitating, EMPHASIS on those three words, that it makes me sick to my stomach that he's not saying them to me. So perfect. In every way. It puts his BILY from TTLG to absolute shame, even though it's still beautiful.
~*~*~*~*~
Immediately after Jack stumbles away, Kate literally flings herself aimlessly into the water, it's almost like she didn't even care about herself at that point, or what would happen to her. Failing in her mission and letting Jack die in vain was NOT an option for her. The only thing he asks of her is to do what she came to do, to get Claire and to leave, and he had to urge her to do even that at this point. I have to say and I will say, that if Jack had asked Kate to stay, she probably would have, but he wouldn't have been that selfish, he never has been.
He was going to die and to punish Kate so harshly as to ask her to watch him die and spend her life on the Island alone, instead of going to live on, to take care of Claire and Aaron, to have a fulfilling existence where the Island doesn't stand in her way, that wouldn't be a satisfying end for me. Kate leaving wasn't a betrayal to Jack, it was honoring his sacrifice, even though she would have liked it so much more if he wasn't such a damned, stubborn tragic hero.
Simply put, Jack and Kate saved each other. Kate saved Jack from Flocke's retaliation, even though she was told that she had one hour to get to the plane and Jack saved Kate by urging her to get on that plane and as far away from that Island as she possibly could, even when he knew she wouldn't be there to comfort him through his last moments. Jack's comforting thought was that the woman he loves was safe, while Kate's comforting thought was that the man she loves went the way that he wanted to, that he needed to. Jack sacrificed a lifetime with Kate and Kate sacrificed the same.
"I saved you a bullet"…. "You gotta get on that plane"….This is what Jack and Kate have ALWAYS DONE for each other. EPIC SACRIFICES FTW. I wouldn't have wanted the Island story to end any other way for them, under the given circumstances, of course.
The Afterlife – 'I have missed you SO MUCH'
OMG. Jack and Kate in this Afterlife, how it all played out for them, WOW. I can't even talk about the lead-ins to their moments, I'm just going to dive in, because DAMN.
The moment outside of the concert… WOW. Kate's face at seeing Jack standing in the grass, like a tall glass of SEXXXAY, she is definitely in love and a woman no longer in waiting for the love of her life to come back to her. The way she walks up to him, she is game for just about EVERYTHING JACK. I mean, she is strutting for real. There is knock-out sex appeal all over this scene, even if Jack is oblivious to exactly how he knows this mystery woman. He is definitely attracted, intrigued. The butterflies in my stomach were flapping their wings like eagles when she walked over to him. GUH...and Kate lacks sexual chemistry with Jack? Get the FUCK OUT.
They are definitely flirting with each other. "You lookin' for someone?", "Where do I know you from?", "I stole your pen", "What?", "Oceanic 815…I bumped into you outside of the bathroom"… I swear, at one point it felt like Kate was enticing Jack into this frisky role-playing deal or something. Jack, as he watches her and talks to her, was dealing with a mixed swirl of complete lust for this woman and noticeable confusion. He's watching her like a hawk, but when he says, "And THAT's how I know you…" I knew that he FELT IT, without not even a touch, or any kind of close physical proximity to her. He recognized HER, way before she gave him any explanation as to how he really knew her, because to him, the explanation she gave him about their encounter on the plane wasn't enough for him, he needed to know so much more. Something inside of him was saying, "This woman means so much more to me than I remember, and I have to figure out what that is all about".
When Kate said, "No, that's not how you know me…", I pumped my fists in the air. I immediately thought: She is Jack's GUIDE. She will be the one to help him remember. Everything. The crash, the sewing kit, the sling, the guava seeds, the friendship, the passion, the love, the fate that they never wanted to admit in the beginning, fell into effortlessly in the middle, and found their way back to in the end.
~*~*~*~*~
Earlier this season, in The Last Recruit, Sawyer asks Kate in the police station if she remembers him. We thought he might be talking about the Island and their moments, but NOPE, he went on about the elevator at the airport, while Kate sat there with a stringent look of disinterest. But the Kate here, strutting over to Jack and completely dominating his personal space, is a woman confident with what she's about to make him feel, what she's about to make him remember, about her, about THEM.
As she gets closer, Jack NEVER breaks eye contact, not ONCE. While he should take a gander at the way that dress luxuriously wraps itself around her tiny, yet curvaceous frame, and the heels that complete the tousled, sexy look, he stays honed in on her green eyes, as if that will jog his memory. She's hesitant to touch him at first, but it's been too long and she's waited so long, that she just goes for it.
"I have missed you SO much..." This BREAKS me. The simple statement implies that Kate spent her ENTIRE life, up until her dying breath, alone, pining for Jack, living as a result of his sacrifice, and honoring their love with her every breath. While my heart breaks for Kate in that she never got to live her life with Jack, which was the one thing she wanted more than anything else, I'm so full when Kate sees Jack after ALL HER LIFE has passed and she is about one second away from swallowing him whole. I can't even…She's ALIVE again, even if she's in limbo, between Earth and Heaven. He's there, that's all she knows.
Kate's life after leaving the Island can be interpreted in one way ONLY: she loved Jack every single day and wanted to see his face every single second. She could have dated, and probably did. She could have loved again, and probably did, but in the END, the people she left behind in death didn't hold ONE CANDLE to her elation and excitement at seeing Jack again. Her "What next?" to Desmond turned into a "Get Jack NAO!" mission very quickly. I love it.

Jack's Flashes: A) Kate coming from the bushes during their first ever scene; B) The "I'm Kate" by the fireside, C) The Glass scene from "I Do", which is an evocative scene in itself, Jack wanting to touch Kate so bad, he burned with it. Just....AHHH. I love that the emotions from those encounters just flood his entire resolve and takes him to a place so powerful that he can barely stand its force, because he wasn't prepared for it.

When Jack pulls away from Kate's touch, I love that she gives him his space, and doesn't force the realization out of him. She's so gentle with his fragile state and she already knows that he doesn't understand what's happening. All she wants to do is show him what is waiting for him, and I love that he goes with this mystical stranger, trusting her beyond logic.

~*~*~*~*~
Was I upset about the lack of blatant physicality, or at the very least, a KISS, between Jack and Kate in the Afterlife? HOW COULD I BE? They got the sexiest, most jaw-droppingly exotic kiss I have ever seen, on the Island, as well as Kate's ILY. I'm a Jater, but I'm not a greedy Jater who completely misses the point. PFFT. We got what MATTERS, what defines a SOULMATE, what Jate has always been about: the POWERFUL emotions, that doesn't take that much of a stretch of the imagination to know that these gravitating emotions show when they are physical. It's not just about the joining of their bodies, but the mating of everything they are. Marriage of mind and heart, completely. That's more important to me than anything else. THAT is Signature JATE.
As for the moments outside of the church, Kate is still staring at him with such love as he puts the car in park, and Jack is still unsure of how he came to trust this woman so deeply right off the bat. When he asks why she brought him there, and when she tells him just why, he goes into what he was doing in Sydney in the first place, again, relying personal information to this mystery woman. Her, "I'm sorry" is genuine, and is somewhat of a retread to the end of "White Rabbit", when she sits next to Jack at the fireside, ready to be his comfort and his shoulder if he needs it. Here, she's the same person. When she gets out of the car, Jack's "Where are you going?" is too cute, already possessing a protective nature about this woman, whom he keeps asking questions, but not getting enough answers.

Jack's flashes of Kate as he's touching the coffin are just so incredibly moving to me, because not only does he flash the entire group, Kate is left at the finish, their final kiss is the last image he sees in order to be completely converted. It's so amazing! Once Jack is in the church with all his friends, hugging and embracing, it's wonderful to see such happiness on his face.

Then he finally comes to KATE. There is such a change in Jack's aura when she approaches him. His expression is lighter, softer, and full of unparalleled love. She found him, she persuaded him, she's there, and she's reaching out to him. The way she intertwines their hands, a symbol of "I'm with YOU, and you're with ME"...AHH. Only Kate could have gotten him to that church, Christian was the only one who could make him realize what his existence was, the beauty of what Kate brought him to, and she was right there with him in the end.
~*~*~*~*~
All I have left to say about JATE is: Jack and Kate get an ETERNITY together, when they never got an itch of privacy or a stretch of a moment on the Island that didn't last for three seconds before being interrupted at the most important juncture! We, as Jaters, should be PROUD and FILLED to the brim by getting that kind of a resolution. I know I am. JATE IS FOREVER.

I WILL MISS THESE TWO SO DAMN MUCH. BUT... I know that they will leave their mark on me forever, and always be with me.

~*~*~*~*~


UP TOMORROW: Part THREE - JACK and LOCKE and Part FOUR - The Shephard's Flock!
I'm feeling:

accomplished